Centenary Dinner & Golf Competition

The dinner went very well and we want to thank everyone who made it to the dinner and also to those who wanted to but, for various reasons, couldn't.
We ended up with 190 on the night after a few last-minute dropouts - mainly for health reasons and I believe all are now recovering.

Photos cab found by following this link
Centenary Dinner Pictures

We opened the room at 6.30 as we had a second bar exclusively for our use.

We had arranged entertainment for the evening and former college student Nick Martland did a splendid job with his vocals for 45 minutes prior to seating.

In the room we had a few items of memorabilia for people to peruse - remember, many items are in the exhibition at the Atkinson (which runs until November 13th).

All the school photos we have were in binders - sport, plays, prefects etc - thanks to the efforts of Stan Rimmer and John Rostron a few years ago in scanning them in.

We sat at 7.30 with our special guest, the Lord Lieutenant of Merseyside, accompanying the Chair and President.

Nick sang again for us for 20 minutes over dessert and the raffle sales. Nick was a one off for us as this was a special event and next April he will be busy in the Caribbean as a cruise director!

Dave Harrison and Michelle Brabner delivered interesting speeches, well aimed at the audience, for the Chair and Presidential contributions.

Brian Viner then entertained us with his anecdotes of both school life and his many encounters with celebrities in this role as a senior (and very successful may I add) journalist.
The raffle prizes were distributed and official farewells made and then most disappeared into huddles to drink and chat until after midnight.

We made £1500 on the night for Queens Court Hospice. The donation page is still open if anyone else wishes to contribute.
https://visufund.com/old-georgians-centenary-celebration-donation?fbclid=IwAR1sW4orcZ9_CitxQA3o5M-YCifxr6sHBZH5yhWSBSh8iv4Z484Ry8cVjr0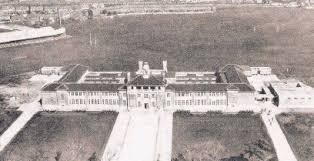 OLD GEORGIANS' CENTENARY CELEBRATION DONATION - Queenscourt Hospice
Jonathan Elliott is fundraising for Queenscourt Hospice: 2020 saw the Centenary of the King George Fifth (KGV) education establishment in Southport. First opening in 1920 as an all boys grammar school, it became a mixed sixth form college in 1979. The Centenary dinner was postponed due to COVID, but has now been re-arranged for October 16th 2021. Prior to

visufund.com

We hope to see you all in April.

And to the former staff - thanks. I know some have thought this event a little daunting, but everyone who comes along seems to thoroughly enjoy themselves!


GOLF COMPETITION


The day before the dinner, 26 eager golfers played at the Hesketh for the Bob Abram Trophy.

Mike Lonsdale of the Class of '74 won using the Stableford rules, proving anyone with a handicap over 20 has a chance!
Mr Robertson was second with Dave Harrison in third and Chris Stitson in 4th.

Of note, was the participation of our first lady golfer, Belinda Miller who came in a creditable 5th.

Our thanks to Chris for organising this event and the next will be
Thursday April 14th 2022
- so please contact Chris to book your place and tee time.

To help Chris - we need as many members of the HGC as possible to sign in the players.